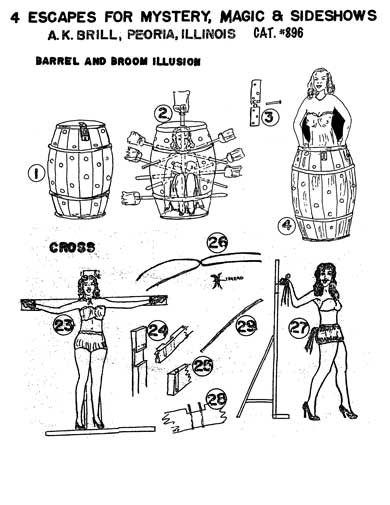 Brill Plan #896
"4 ESCAPES FOR MYSTERY, MAGIC & SIDESHOWS"
Restored from an aging original
1950's Brill manuscript - 7 pages 8½x11"
How to build 4 magic escape illusions, easy to build and easy to perform!
Complete construction details, complete performance instructions
Barrel and Broom Illusion
Cross Escape
Packing Box Escape
Vertical Prison
---
NOTE: These pdf files are not sent instantly by an autoresponder - your files will be sent "same day" as soon as a human being sees your Paypal payment and sends them as email attachments. Don't worry, it's still pretty fast!
BACK TO CARNIVAL INDEX HOME PAGE