Brill plan #890
"COFFIN-TYPE BLADE BOX"
Yes, you can build a good one with these plans!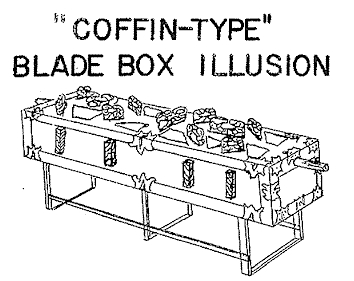 It's a "box type" magic illusion, but to a carny the Blade Box is much more!
It's an essential "blowoff ding" — the feature you offer at the end of a 10-in-one" sideshow, for an extra fee. Why would anyone pay extra to see a magic trick?
It works like this:
"Sheila is going to step behind the curtain for a moment and remove her costume. We are not doing this to be lewd or crude, but this feat requires her to twist and contort her body so severely that she cannot perform it while hampered by even this small item of clothing (here, honey, just hand out that costume and I'll fold it up nice for you). And now that she has prepared herself, she will recline in the cabinet, and I'm going open the curtain and close the lid. Notice that the lid has openings for 13 steel blades. I am not going to cut this beautiful young lady, because as I insert each blade she is bending, twisting and contorting her body in and around every one of these blades of steel, just like a snake, just like a rubber band, she can bend her body as these blades threaten to sever the most delicate parts of her body. And now, I'm going to give the real men in the audience a chance to come up on stage and see for themselves! Sheila invites each and every one of you up here to see how she does it. You're going to see how her amazing body can twist around these razor-sharp blades, you're going to see the texture of her skin! But you should know that this lovely and talented little beauty receives no pay for displaying herself to your eyes in this fashion. Sheila feels that exposing her act and her body this way is worth one dollar, because she is paid only through your curiosity and your generosity. Just hand your dollar to the man at the foot of the steps and come up and see this beautiful little girl in the state she is in now, unashamed and waiting for you to view her."
(Of course, when you come up and look in, she's wearing a skimpy bathing suit — she's just not wearing the costume you first saw her in. And that's all anyone promised.)
Reproduced from the 1940's/50's original. Brill's plans often included newspaper-size pages. This edition includes all the text and illustrations in a convenient 7-page 8½x11" format.
FREE BONUS: A full page of color photos of the finished illusion.
NOTE: These pdf files are not sent instantly by an autoresponder - your files will be sent "same day" as soon as a human being sees your Paypal payment and sends them as email attachments. Don't worry, it's still pretty fast!
BACK TO CARNIVAL INDEX HOME PAGE