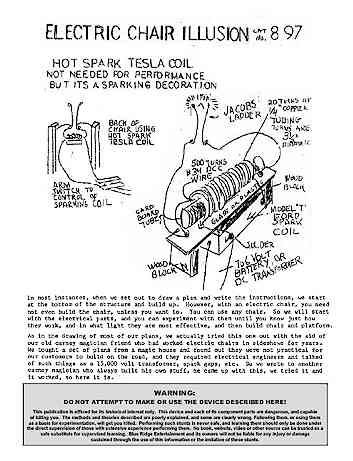 Brill Plan #897
"Electric
Chair
IllusioN"
Ultra-high-frequency electricity allows the performer or a volunteer to light fluorescent tubes with a touch, light torches with the sparks from your fingers, an unbelievable display featuring 15,000 volts of electricity coursing through a living human body!
---
NOTE: THIS CAN BE DONE, AND IN THE HANDS OF A GOOD SHOWMAN IT'S GREAT.
BUT THE WARNING BELOW IS SERIOUS - LEARN ONLY FROM SOMEONE
WHO ACTUALLY PERFORMS IT (email me for help contacting such a person).
Reproduced from the 1940's/50's original. Brill's plans often included newspaper-size pages. This edition includes all the text and illustrations in a convenient 7-page 8 1/2 x 11" format. So who was Brill anyway?
WARNING: DO NOT ATTEMPT THIS STUNT!
THIS IS BIG-TIME DANGEROUS! IT WILL GET YOU INJURED OR KILLED!
This publication is offered for historical interest only.
It is a reproduction of a manuscript by a non-performer. No one has edited or tested this information.
The methods described are dangerous, and some are clearly wrong.
This is an act that should only be attempted under the direct supervision of experienced performers.
No book, website, video or other source can be trusted as a safe substitute for supervised learning.
Blue Ridge Entertainment and its owners will not be liable for any injury or damage
sustained through the use of this information.
NOTE: These pdf files are not sent instantly by an autoresponder - your files will be sent "same day" as soon as a human being sees your Paypal payment and sends them as email attachments. Don't worry, it's still pretty fast!
BACK TO CARNIVAL INDEX HOME PAGE