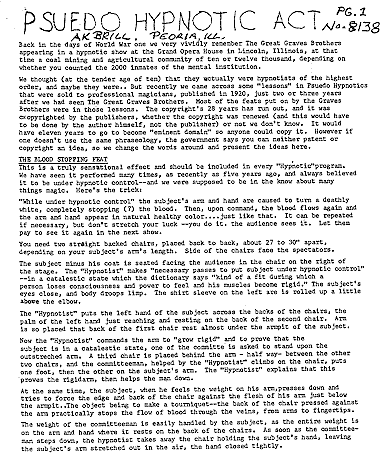 BRILL #8138
"PSEUDO HYPNOTIC
ACT"
An act that plays well, full of
time-tested audience-foolers!
They'll believe in your
hypnotic powers when you perform
"Blood Stopping"
"Stand 3 Men on Subject's Chest"
"Break a Stone on Chest" "The Rigid Arm"
---
Plus extensive notes on "selling" the audience and playing the act!
MYSTERIOUS EFFECTS! AUDIENCE-FOOLERS!
EASY TO DO! EXCITING TO WATCH!
Reproduced from the 1940's/50's original. 7 pages 8½x11" format. So who was Brill anyway?
NOTE: These pdf files are not sent instantly by an autoresponder - your files will be sent "same day" as soon as a human being sees your Paypal payment and sends them as email attachments. Don't worry, it's still pretty fast!
BACK TO CARNIVAL INDEX HOME PAGE