TRICK SHOOTING, QUICK DRAW
AND COMBAT SHOOTING ACT
Brill Plan 616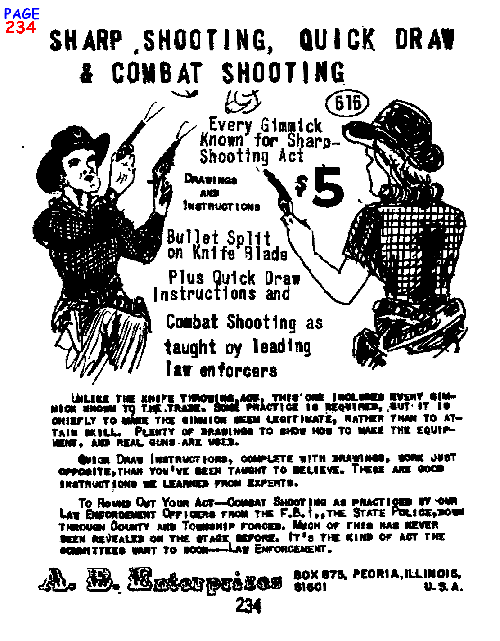 The expert marksman, a vaudeville and circus mainstay!
From Annie Oakley to modern western-arts sharpshooters and quick-draw artists, gunplay has been thrilling audiences for over a hundred years! And the field has also featured plenty of tricksters whose acts entirely illusions that fool the crowd perfectly.
Here are their secrets, the stunts that require long hours of training to master plus the tricks that make incredible stunts possible for anyone with good eyesight and a bold presentation.
From legendary carny and sideshow writer Aaron Brill come instructions for a full Sharp Shooting, Quick Draw and Combat Shooting Act, restored and republished here for its historical value only.
The secrets to apparently having uncanny accuracy shooting targets and snuffing candle flames with just a shot, splitting a bullet on the edge of a knife blade to hit 2 targets at once, shooting the ashes off your assistant's cigarette, and much more! How to arrange and perform an audience-thrilling act!
14 pages of Brill's illustrated secret instructions, plus 7 more bonus pages from other historical documents, 21 pages in all, a pdf file emailed to you for just $4, don't miss it, get this one if it's the last thing you do!
NOTE: The pdf files are not sent instantly by an autoresponder - your files will be sent "same day" as soon as a human being sees your Paypal payment and sends them as email attachments. Don't worry, it's still pretty fast!
BACK TO CARNIVAL INDEX HOME PAGE